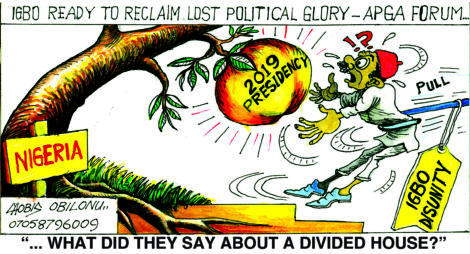 ENUGU- ARDENT supporter of President Mohammadu Buhari and the Director General Voice of Nigeria, Mr. Osita Okechukwu has picked holes in Igbo leaders rejection of ceeding Presidency to Ndigbo in 2023.
The Igbo Leaders of Thought, ILT, led by Erudite Professors Ben Nwabueze, Chinwite Ejike and Elochukwu Amuchiazu had during the weekend called for pursuit of restructuring of Nigeria polity over other than a President of Igbo extraction.
But Okechukwu in a swift reaction on Sunday disagreed with the Igbo Leaders, saying that Ndigbo need Presidency to end cries of marginalisation. Okechukwu said "I am in the know that most of Ndigbo are keen on Nigeria president of Igbo extraction come 2023. "The Igbo president in 2023, will in no small measure cushion sulking and wrinkling of hands over marginalisation.
"Restructuring will only succeed when the weaker states and people are assured of basic needs of survival. This is the target of President Buhari's RRAP projects.
"Am accordingly pleading with Professor Ben Nwabueze and co to join us in appealing to all geopolitical zones in the country, to support any Igbo man or woman of their choice in 2023.
"For by then, South East will be the only geopolitical zone in the South that had not been president since the zoning convention took off in 1999. This is more pragmatic than utopian."