Steps for 2018 Jamb UTME Registration
A. PROFILE REGISTRATION
i. One phone number can be used by one candidate only. The  phone number used for the text message is automatically tied to the Candidate's name and will be used in all communications related to his/her 2018 Application/Examination
ii. Candidate sends his/her name [Surname First-Name Middle-Name (if any)] by text (SMS) to 55019. This should be maximum of 38 characters + 2 spaces between names = 40 characters in all to 55019 e.g Uche Paschal Christian Surname and first name are mandatory
iii. A Profile Code of 10 characters is received by the candidate on the same telephone number.
B. SELF HELP IN CASE OF MISTAKE /LOSS OF PROFILE CODE
i. To correct a mistake in candidate's name, send the [CORRECT Surname First-Name Middle-Name] to 55019 as a text message from the same mobile number
ii. To retrieve a lost Profile Code, send [RESEND] to 55019 as text message from the same mobile number.
C. JAMB e-PIN SELLING POINTS
The e-PIN outlets are:
i. NIPOST and eleven(11) Participating Banks (ACCESS, ECOBANK, FIRSTBANK, FCMB, FIDELITY, JAIZ, SKYE, STERLING, UNION, UNITY and ZENITH)
ii. Four Mobile Money Operators: Paga, e-Tranzact (PocketMoni), TEASYPay and Packway Projects (Readycash)
iii. Two participating Micro Finance Banks: FUD MFB (Dutse) and Regent MFB (Abuja)
iv. Two online Payment Platforms: SystemSpecs (Remita) and InterSwitch (Quickteller)
v. POS (Citi-Serve)
vi. ATMs of banks listed in 5C (i) above (InterSwitch)
vii. USSD (NIBSS & ERCAS) for mobile banking
viii. Nigerian Embassies in Abidjan, Accra, Addis Ababa, Buea, Cotonou, Jeddah, Johannesburg and London.
D. DUTIES OF PARTICIPATING BANKS/ OUTLETS
i. Collect the Profile Code from candidate's phone
ii. Collect payment and vend ePIN by SMS to candidate's phone
iii. Facilitate POS Payment, if necessary
iv. Issue Evidence of Payment
v. Collect Centre Service Fees, if requested by the CBT Centre
E. SIX DIFFERENT MODES/METHODS OF PAYMENT/ PROCUREMENT OF ePIN FOR REGISTRATION (CHOOSE SUITABLE ONE)
i. PAYMENT THROUGH BANKS INCLUDING MICRO FINANCE BANKS
(a) Present Profile Code and pay by cash or card
(b) ePIN is then delivered to the candidate's unique telephone number
ii. PAYMENT THROUGH POS; This is available at State Offices of JAMB + CBT Centres, other POS outlets and any CBT Centre that demands it
(a) Present Profile Code and pay by card
(b) ePIN is then delivered to the candidate's unique telephone number
iii. PAYMENT THROUGH MOBILE MONEY OPERATORS; This is available at CBT Centres and Other Outlets
(a) Present Profile Code and pay by cash
(b) ePIN is then delivered to the candidate's unique telephone number
iv. PAYMENT USING ATM; This is available on all ATM outlets of Participating Banks listed in 5C(I) (InterSwitch Channel)
(a) Select Bill Payment and then pick JAMB
(b) Enter Profile Code and pay
(c) ePIN is then delivered to the candidate's unique telephone number
v. ONLINE PAYMENT ON JAMB PORTAL
(a) Visit JAMB website: www.jamb.gov.ng
(b) Click Purchase of 2018 Application Document
(c) Enter your Profile Code
(d) Select payment method (InterSwitch or Remita)
(e) Make payment
(f) ePIN is then delivered to the candidate's unique telephone number
vi. PAYMENTS USING USSD (NIBSS/ERCAS)
(a) Dial *565*6*55019#
(b) Enter Profile Code
(c) Select bank and follow the prompts to complete payment
(d) ePIN is then delivered to the candidate's unique telephone number
vii. Procedure for the eight foreign centres only is as follows:
(a) Registration fee for candidates from the eight foreign countries is $20 or its equivalent in each of the eight countries.
(b) Candidates from the eight foreign countries are to download the Application from the Board's website (www.jamb.gov.ng) complete and submit it with the fee at the eight designated centres as indicated on the website.
F. HOW TO RECOVER LOST ePIN AFTER PAYMENT
I. If ePIN is not Received or Lost, send [UTMEPIN] or [DEPIN] to 55019 for UTME or DE respectively from the unique number
ii. The ePIN would then be retrieved and delivered on the candidate's unique number. AFTER SUCCESSFUL PAYMENT AND OBTAINING ePIN, CANDIDATE SHOULD PROCEED TO ANY OF THE JAMB ACCREDITED CBT CENTRES TO COMPLETE HIS/HER REGISTRATION.
G. REGISTRATION CENTRES
I. In line with the Board's regulated registration exercise, only the accredited Computer Based Test Centres and JAMB Offices will be allowed to register candidates
ii. Each candidate should visit any accredited CBT centre (the list of accredited centres is on our website (www.jamb.gov.ng), with his/her personal details, the profile and evidence of payment.
H. REGISTRATION PROCESS AT CBT CENTRES:
The candidate presents the ePIN at any JAMB accredited CBT Centre for completion of  registration. The name of the candidate as typed by the candidate on his/her phone when registering the profile comes up automatically on the input of the e-PIN by the CBT centre
Candidates are to:
i. Pay NOT more than N700 as Service Charge to the CBT Centre
ii. Provide Biodata including Date of Birth, Nationality, State of Origin, Local Government, Gender, e-mail address, among others
iii. Provide choice of institutions and programmes (disciplines)
iv. Provide qualification with grades and dates, if not awaiting result
v. Upload relevant certificates, if not awaiting result
vi. O/L and or A/L grades are to be provided by candidates. Candidates who are awaiting results should supply the results online as soon as they are available on JAMB's portal. No recommendations from any Institution will be considered by JAMB if the candidate has not supplied his/her result on the portal of JAMB
vii. Supply JAMB registration number for previous institutional certificates for DE only
viii. Provide UTME subjects and choice of examination town(s) for
(a) Mock examination (optional)
(b) Examination for UTME (actual examination)
ix. Do picture capture (no scanning of passport photograph)
x. Do Biometric enrolment (ten fingers)
xi. Review entries and confirm correctness
xii. Print Registration Slip USING BIOMETRIC AUTHENTICATION
xiii. Collect, at no other cost, the reading text and CD
xiv. Each Candidate is to collect his/her e-slip at the end of registration as evidence of registration
xv. There will be no offline registration, as all the accredited CBT centres have been empowered for real time online registration. No candidate should register at any centre other than the accredited CBT centre and JAMB State-Offices. Any candidate who is registered outside approved centres will be identified and disqualified.
HAELSOFT SCOLARSHIP TRAINING 2019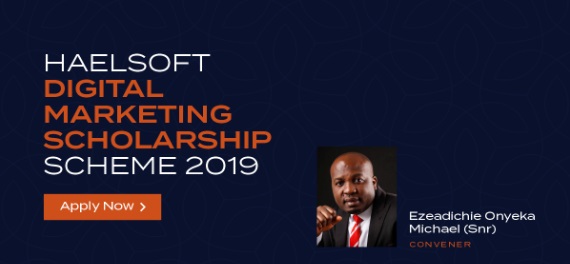 HAELSOFT SCOLARSHIP TRAINING
Haelsoft Digital Marketing is a professional company that provides a broad range of programmes in digital technology, operations strategy and business. they hosted a scholarship programme which ran from the 10th of December to 13th of December.
The scholarship programme was a very wonderful package which helped to enlighten young talents who are passionate about Digital Marketing and technology find a path towards achieving greatness.
The programme kicked off at exactly 9:00am which started with an opening prayer and introductory speech by the CEO with the names Mr Ezeadichie Onyeka Michael who thanked everyone for being able to attend the programme.
The first item on the programme was introducing Digital marketing. The teaching also went further to talk about SEO optimization teaching us how to use those different tools for better performance. there was a short break with the interval of 30 minutes. they also taught about Google ads which brought the programme to a close for the day.
The second day kicked off at 9:00am as usual with an opening prayer. we went straight to the teaching of the day which talked about Google trends and podcast, that ended the programme for the day.
The third day talked about creation of website, how to create a website without stress and youtube video creation which ended the programme for the day with a closing prayer
The last day was about content marketing and content writing which helped channel young writers on how well to write. The last day was fun because interviews were taken from different radio stations. The scholarship programme ended well all thanks to the CEO of Haelsoft Digital marketing institute,
Fun Games to Help your Child Develop( Pearsbaby)
Age-appropriate activities are a great way for parents to help their children grow, and an even better way to share some very special time together. They are a way of teaching your children basic skills and exercising their brains, even while they're very young. Here are a few exercises for you to try with your children when you think they're ready.
0 – 6 Months:
Tummy Time,  is one of the oldest, and best exercises for toddlers because it's so simple. Lay out some brightly coloured toys for your baby on the floor, in an area where you can watch them carefully, and let them squirm around and explore the world. Squat over them, hold toys above them, roll them from side to side, and above all else, have lots of fun!
Footsies, is another great game that stimulates your babies under developed motor skills. With your baby on its back, put brightly coloured socks or booties on their feet and then pinch one of their toes to grab their attention. When they become wrapped up in those colourful toes leave them to play, and watch as they exercise their back, arms, legs and core.
Read More : Fun Games to Help your Child Develop
7 Tips On How To Make Social Media Work For Your Business
1. Every brand or individual who decides to use the social media platform as a tool for either personal branding or brand management must have a good strategy on how they intend to play on that space. i.e. what they intend to achieve and how they intend to go about it.
2. Having clear & engaging content would provide brand awareness & daily consumer interaction with your brand. Find content that resonates with your target group. For instance; if your TG is young people, research & discover what most young people are doing online, provide content they would be interested in (Music, football, videos, games, etc.)
3. Social media is a two way communication. If your audience/ consumers take out time to visit your social media page and interact with your content either by commenting, liking or sharing, please respond to them. No matter how flimsy or irrelevant their suggestions may be, the least you can say is "Thank you for your comment". You would be amazed how much trust you would gain from your audience.
4. Always ask your audience/ consumers for feedback on your products. This would help the brand position itself in the right direction. Social media gives you the opportunity to reach as many people as possible, through one medium, all at the same time!
5.If your brand has a "serious tone of voice" offline and you decide to get on social media, find a "social media tone of voice" to increase your online presence & engagement.
6. On social media, sometimes images speak louder than words! Use images that are sharp, clear and attractive to the user. Your brand logo must always accompany your images as well! Images would serve as an advertising vehicle for your brand.
7. No matter what you do, be sincere. Sincerity equals believability and credibility for your brand.
source: Wildfusion