Nigerian Law School Application Form Guidelines on Official Registration Website www.nigerianlawschool.edu.ng.
Nigerian Law School Admission Application Form 2017 is Out – See Details
This is the application details for Nigerian Law School (NLS) 2017 Bar Part 1 Course. The Nigerian Law School was set up by the Federal Government of Nigeria by the Legal Education Act of 1962 to cure the deficiency in the training of Nigerians who obtained qualifications in Law abroad and to provide the much needed practical training to those aspiring to become Legal Practitioners in Nigeria.
How to Apply for Nigerian Law School Admission Form 2017:
Interested candidates are to visit the Nigerian Law School Website: www.nigerianlawschool.edu.ng to read and strictly follow the instructions to complete the application form.
Click on Admissions and select Bar Part I.
Follow the steps, complete and submit the online application form.
Print a copy of your submitted online form and execute the jurat (form to be returned to the Council of Legal Education).
Download and print blank copies of Forms B, B1 & B2.
Submit Form B (Faculty Ref. Form) to the Dean of your Law Faculty, who is to complete Form B, and return to the Law School.
Downloaded copies of Employer's Reference, Forms B1 and Letter of Release, Form B2 are to be completed by the applicant's employer if he/she has been in regular employment for a period of not less than one year immediately preceding the time of application, and in any other case by his/her employer to whom he/she has given at least one year of continued service, and forwarded as indicated in the form.
Each Application should be accompanied by the following documents:
LAW DEGREE CERTIFICATE: A photocopy of Qualifying Degree Certificate; this means a Degree in Law or a Mixed Degree in Law of a University in a Common Law Country whose course of study is approved by the Council of Legal Education. In this regard, it should be noted that a Law Degree obtained through study fully or partly as an External candidate of a University or Law School is not acceptable for admission purposes. Also not acceptable are degrees obtained through distance learning.
Where the Degree is obtained from a University in the United States of America, the Law School must be accredited to the Association of American Law Schools or the American Bar Association. In all cases, the Law subjects taken must include the Law of Contract, the Law of Tort, Constitutional Law, Criminal Law, Land Law, Equity and Trusts, the Law of Evidence, and Commercial Law. Each of these subjects must have been studied and passed as a separate subject. Where a Qualifying Degree Certificate has not yet been issued, satisfactory evidence of passing the appropriate examination must be attached. Where the final examination for the Qualifying Degree Certificate is to be taken in the year of the application, the Nigerian Law School will only entertain the application subject to the candidate satisfying the Qualifying Degree requirement not later than a month preceding the commencement of the course.
NOTE: Those who studied in Non-Common Law countries are not eligible for this course.
ACADEMIC TRANSCRIPT: The Registrar/ Academic Dean of your University should be asked by you to forward direct to the School, the transcript of your Qualifying Degree showing the subjects taken and the grade obtained in each subject. The transcript should be signed by the Registrar. It is emphasized for the avoidance of doubt, that no student will be offered admission to undertake the Bar Part I course without a transcript, authenticated by the Registrar /Academic Dean of his/her University or Institution.
NOTE: If applicant has studied in more than one University for the Law Degree Programme, Transcripts from both Universities must be received.
AN APPLICANT'S FORM WILL ONLY BE PROCESSED FOR ADMISSION IF AND ONLY IF THE UNDERLISTED ARE RECEIVED:
a. Copy of the Law Degree Certificate.
b. Official Academic Transcript signed by the Institution's authorized signatory.
c. Duly completed and stamped Faculty Reference Form B which must be completed by the Dean or Head of Faculty of Law of the Institution and forwarded directly to the Nigerian Law School.
d. Duly completed and stamped Employer's Reference, Form B1 and Letter of Release, Form B2 (where applicable). These must be forwarded directly to the Nigerian Law School.
e. Two recent Passport size photographs of the applicant.
CLOSING DATE:
All application forms together with references on applicants must be completed and returned to reach the Office of the Secretary to the Council of Legal Education/Director of Administration, NIGERIAN LAW SCHOOL, HEADQUARTERS, BWARI, P.M.B 170, GARKI, ABUJA, NIGERIA not later than April 28 and May 12 2017 for forms, and references respectively. It is the duty of applicants to ensure their referees comply with this date. Applications and references received later than the deadline stipulated will not be entertained.
CHECKING ADMISSION STATUS – Applicants are advised to check their admission status on the portal from June 12, 2017. No applicant should report on Campus without being offered admission.
HOSTEL ACCOMMODATION
Accommodation is very limited and shall be provided on first come first served basis for Students for the duration of the course and each room is shared. Allocation of the available spaces in the School's hostel will be made at the beginning of the programme. Under no circumstance will any one be allowed into the hostel before allocation. Students are to arrange for their own curtains, linen and laundry. Students who do not get accommodation should make private arrangements.
COMMENCEMENT OF SESSION
The session will commence on June 26, 2017. The training course at the Law School is fulltime. No student is allowed to undertake any gainful or other form of employment or business during the course. A breach of this rule will lead to expulsion from the School and may result in a permanent disqualification for admission. Students in gainful employment or business are advised to obtain leave of absence/study leave from their employers before the commencement of the course.
HAELSOFT SCOLARSHIP TRAINING 2019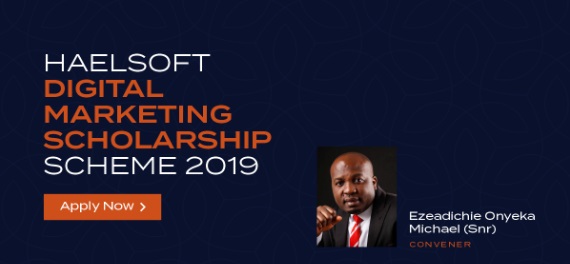 HAELSOFT SCOLARSHIP TRAINING
Haelsoft Digital Marketing is a professional company that provides a broad range of programmes in digital technology, operations strategy and business. they hosted a scholarship programme which ran from the 10th of December to 13th of December.
The scholarship programme was a very wonderful package which helped to enlighten young talents who are passionate about Digital Marketing and technology find a path towards achieving greatness.
The programme kicked off at exactly 9:00am which started with an opening prayer and introductory speech by the CEO with the names Mr Ezeadichie Onyeka Michael who thanked everyone for being able to attend the programme.
The first item on the programme was introducing Digital marketing. The teaching also went further to talk about SEO optimization teaching us how to use those different tools for better performance. there was a short break with the interval of 30 minutes. they also taught about Google ads which brought the programme to a close for the day.
The second day kicked off at 9:00am as usual with an opening prayer. we went straight to the teaching of the day which talked about Google trends and podcast, that ended the programme for the day.
The third day talked about creation of website, how to create a website without stress and youtube video creation which ended the programme for the day with a closing prayer
The last day was about content marketing and content writing which helped channel young writers on how well to write. The last day was fun because interviews were taken from different radio stations. The scholarship programme ended well all thanks to the CEO of Haelsoft Digital marketing institute,
Fun Games to Help your Child Develop( Pearsbaby)
Age-appropriate activities are a great way for parents to help their children grow, and an even better way to share some very special time together. They are a way of teaching your children basic skills and exercising their brains, even while they're very young. Here are a few exercises for you to try with your children when you think they're ready.
0 – 6 Months:
Tummy Time,  is one of the oldest, and best exercises for toddlers because it's so simple. Lay out some brightly coloured toys for your baby on the floor, in an area where you can watch them carefully, and let them squirm around and explore the world. Squat over them, hold toys above them, roll them from side to side, and above all else, have lots of fun!
Footsies, is another great game that stimulates your babies under developed motor skills. With your baby on its back, put brightly coloured socks or booties on their feet and then pinch one of their toes to grab their attention. When they become wrapped up in those colourful toes leave them to play, and watch as they exercise their back, arms, legs and core.
Read More : Fun Games to Help your Child Develop
7 Tips On How To Make Social Media Work For Your Business
1. Every brand or individual who decides to use the social media platform as a tool for either personal branding or brand management must have a good strategy on how they intend to play on that space. i.e. what they intend to achieve and how they intend to go about it.
2. Having clear & engaging content would provide brand awareness & daily consumer interaction with your brand. Find content that resonates with your target group. For instance; if your TG is young people, research & discover what most young people are doing online, provide content they would be interested in (Music, football, videos, games, etc.)
3. Social media is a two way communication. If your audience/ consumers take out time to visit your social media page and interact with your content either by commenting, liking or sharing, please respond to them. No matter how flimsy or irrelevant their suggestions may be, the least you can say is "Thank you for your comment". You would be amazed how much trust you would gain from your audience.
4. Always ask your audience/ consumers for feedback on your products. This would help the brand position itself in the right direction. Social media gives you the opportunity to reach as many people as possible, through one medium, all at the same time!
5.If your brand has a "serious tone of voice" offline and you decide to get on social media, find a "social media tone of voice" to increase your online presence & engagement.
6. On social media, sometimes images speak louder than words! Use images that are sharp, clear and attractive to the user. Your brand logo must always accompany your images as well! Images would serve as an advertising vehicle for your brand.
7. No matter what you do, be sincere. Sincerity equals believability and credibility for your brand.
source: Wildfusion