Mrs Osinbajo calls for support to boost girl-child education
Mrs Dolapo Osinbajo, wife of the Vice President, has urged groups, organisations and individuals to support more indigent girls and women to access quality education and empowerment.
Osinbajo made the call as a special guest at the Gala Night/Fund Raising Dinner of the Diamond Lights Women Empowerment Initiative (DLWEI) in Lagos.
She said that people, by educating girls and empowering women, would be investing in the future of the country.
"There are lots of women out there, our sisters, mothers, wives and daughters.
"Some are educated, but they are helpless and powerless, while some are capable but they are ill-equipped. They stand at a crossroads.
"Diamond Lights is at a crossroads because they have chosen to lend a helping hand.
"They have chosen to help them to grow into greatness, knowing that if we know better, we will do better," she said.
Osinbajo said that a little girl, given a helping hand, would be able to attain great heights like many notable women have done in the nation's history.
I'm so proud to be a Nigerian. Nigerians are generous and such large-hearted people.
"There is hardly a family or an establishment that is not helping someone or the other.
"I have seen the work that this initiative has done. I implore us and encourage us to hold up our hands by providing financial support and lend a hand, so that we can ensure that every woman in Nigeria is taken care of and educated," she said.
In her address, Pastor Adefunke Kasali, the Founder on the DLWEI, said the initiative was born with a burden to reach out to women and girls.
She said that it was aimed at ensuring that women and girls fulfill their God-given purpose on earth.
Kasali said that DLWEI  was planning to take the initiative to the North-Central and North-East, to help displaced women and girls.
"The rate of educating girls in the West and in the East is fair at 85 per cent while in the North it is below 24 per cent, and this is why the rate of poverty in the north is alarming.
"In the last 12 years, we have educated and empowered 150 girls and women in the West.
"We plan to do the same in the North to see what bit of a difference we can make.
"We are calling on well-meaning Nigerians and corporate organisations to partner and support our initiative to help us reach out, educate and empower more women and girls and take them out of poverty.
"All proceeds from this fund raising will go to the initiative's scholarship fund.
"With little support, we can make a lot of difference in the lives of those who cannot help themselves, " Kasali said.
Some of the beneficiaries said the initiative did not only sponsor their education, but also gave them moral support.
Miss Esther Akinbinu, who graduated as an accountant from the University of Lagos (UNILAG), said she went through the university without worrying about her tuition and other expenses as Diamond Lights saw her through it all.
Dr Adebanke Adenola, who graduated from UNILAG as the best medical student in 2013, said she lost her father three days after she was admitted into the university.
"I could not pay my school fees because I had financial challenges as a result of my father's death.
"I reluctantly applied for this scholarship because I did not have any other choice.
"This initiative turned out to be wonderful and helped me achieve my dreams in life. They gave me hope when I was hopeless, "she said.
Diamond Light Women Empowerment Initiative is a non-governmental organisation with focus on education of girls from indigent homes.
It has supported over 150 young women through their university education since 2006.
HAELSOFT SCOLARSHIP TRAINING 2019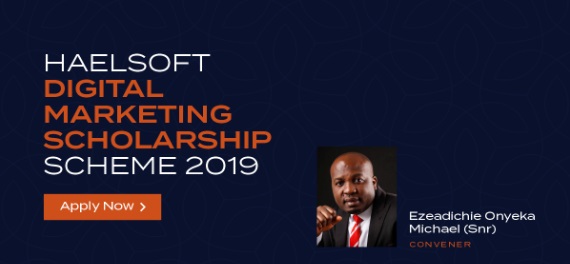 HAELSOFT SCOLARSHIP TRAINING
Haelsoft Digital Marketing is a professional company that provides a broad range of programmes in digital technology, operations strategy and business. they hosted a scholarship programme which ran from the 10th of December to 13th of December.
The scholarship programme was a very wonderful package which helped to enlighten young talents who are passionate about Digital Marketing and technology find a path towards achieving greatness.
The programme kicked off at exactly 9:00am which started with an opening prayer and introductory speech by the CEO with the names Mr Ezeadichie Onyeka Michael who thanked everyone for being able to attend the programme.
The first item on the programme was introducing Digital marketing. The teaching also went further to talk about SEO optimization teaching us how to use those different tools for better performance. there was a short break with the interval of 30 minutes. they also taught about Google ads which brought the programme to a close for the day.
The second day kicked off at 9:00am as usual with an opening prayer. we went straight to the teaching of the day which talked about Google trends and podcast, that ended the programme for the day.
The third day talked about creation of website, how to create a website without stress and youtube video creation which ended the programme for the day with a closing prayer
The last day was about content marketing and content writing which helped channel young writers on how well to write. The last day was fun because interviews were taken from different radio stations. The scholarship programme ended well all thanks to the CEO of Haelsoft Digital marketing institute,
Fun Games to Help your Child Develop( Pearsbaby)
Age-appropriate activities are a great way for parents to help their children grow, and an even better way to share some very special time together. They are a way of teaching your children basic skills and exercising their brains, even while they're very young. Here are a few exercises for you to try with your children when you think they're ready.
0 – 6 Months:
Tummy Time,  is one of the oldest, and best exercises for toddlers because it's so simple. Lay out some brightly coloured toys for your baby on the floor, in an area where you can watch them carefully, and let them squirm around and explore the world. Squat over them, hold toys above them, roll them from side to side, and above all else, have lots of fun!
Footsies, is another great game that stimulates your babies under developed motor skills. With your baby on its back, put brightly coloured socks or booties on their feet and then pinch one of their toes to grab their attention. When they become wrapped up in those colourful toes leave them to play, and watch as they exercise their back, arms, legs and core.
Read More : Fun Games to Help your Child Develop
7 Tips On How To Make Social Media Work For Your Business
1. Every brand or individual who decides to use the social media platform as a tool for either personal branding or brand management must have a good strategy on how they intend to play on that space. i.e. what they intend to achieve and how they intend to go about it.
2. Having clear & engaging content would provide brand awareness & daily consumer interaction with your brand. Find content that resonates with your target group. For instance; if your TG is young people, research & discover what most young people are doing online, provide content they would be interested in (Music, football, videos, games, etc.)
3. Social media is a two way communication. If your audience/ consumers take out time to visit your social media page and interact with your content either by commenting, liking or sharing, please respond to them. No matter how flimsy or irrelevant their suggestions may be, the least you can say is "Thank you for your comment". You would be amazed how much trust you would gain from your audience.
4. Always ask your audience/ consumers for feedback on your products. This would help the brand position itself in the right direction. Social media gives you the opportunity to reach as many people as possible, through one medium, all at the same time!
5.If your brand has a "serious tone of voice" offline and you decide to get on social media, find a "social media tone of voice" to increase your online presence & engagement.
6. On social media, sometimes images speak louder than words! Use images that are sharp, clear and attractive to the user. Your brand logo must always accompany your images as well! Images would serve as an advertising vehicle for your brand.
7. No matter what you do, be sincere. Sincerity equals believability and credibility for your brand.
source: Wildfusion