Mobil, Dangote Cement Return Stock Market to Danger Zone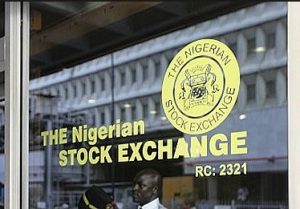 The Nigerian Stock Exchange (NSE) closed the last trading day of the week bearish 24 hours after it finished the previous session bullish.
This was influenced mainly by losses recorded by Mobil Oil Nigeria, Dangote Cement and 22 other equities. Mobil Oil Nigeria lost N10 to lead the laggards' chart, finishing at N165 per share.
It was followed by Dangote Cement, which depreciated by N3 to close at N225 per share, and CCNN, which went down by N2.05k to end at N22.25k per share.
Nigerian Breweries fell by N1.90k on Friday to settle at N111.10k per share, while PZ Cussons declined by N1.70k to finish at N19 per share.
On the other hand, GTBank recorded the biggest price appreciation after going up by N1.45k to close at N41.50k per share.
It was trailed by Julius Berger, which increased by 55 kobo to finish at N29.50k per share, and Presco, which appreciated by 40 kobo to end at N75.50k per share.
NEM Insurance went up yesterday by 30 kobo to close at N3.40k per share, while UPL grew by 22 kobo to settle at N2.55k per share.
The total volume of equities transacted yesterday by investors depreciated by 36.47 percent, while the value also decreased, however, by 47.82 percent.
A total of 319.6 million shares were bought and sold by investors on Friday in 4,084 deals worth N3.1 billion in contrast to the 503.1 million stocks valued at N5.9 billion traded on Thursday.
Most of the stocks transacted at the market yesterday were from the Services sector, which led the activity chart with 160.1 million units sold for N1.1 billion.
It was closely followed by stocks in the Financial Services industry, which traded 124.1 million units worth N1.5 billion.
A further breakdown showed that NAHCO attracted huge attention of investors with a total of 148.5 million units of its shares sold for N1.1 billion.
Zenith Bank, which followed, traded 17.3 million units worth N419.8 million, while Sterling Bank exchanged 17 million shares valued at N24.8 million.
UBA sold 14.3 million equities worth N148 million, while GTBank exchanged 13.8 million shares valued at N567.5 million.
The local exchange, which fell by 0.31 percent on Friday, left its Year-to-Date (YtD) in the negative region, closing at -1.16 percent.
The All Share Index (ASI) depreciated by 117.63 basis points to close at 37,625.59 basis points, while the market capitalization decreased by N43 billion to settle at N13.630 trillion.