Exness expands its Fintech Scholarships program to Kenya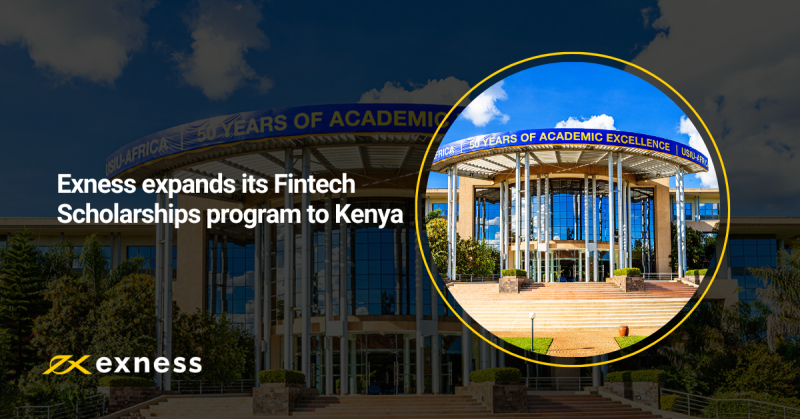 Exness expands its Fintech Scholarships program to Kenya
The program in Kenya is open to third and fourth year USIU undergraduates in Data Science, Analytics, and Software Engineering or students who have accepted an offer for the MSc in Information Technology course
Multi-asset broker Exness (www.Exness.com) is pleased to announce it is extending its popular Fintech Scholarships program to Kenya. The scheme will be in partnership with the United States International University (USIU), one of the most prestigious educational institutions in Kenya. Exness Fintech Scholarships aim to support outstanding university students in a STEM field.
The program in Kenya is open to third and fourth year USIU undergraduates in Data Science, Analytics, and Software Engineering or students who have accepted an offer for the MSc in Information Technology course starting in September 2023.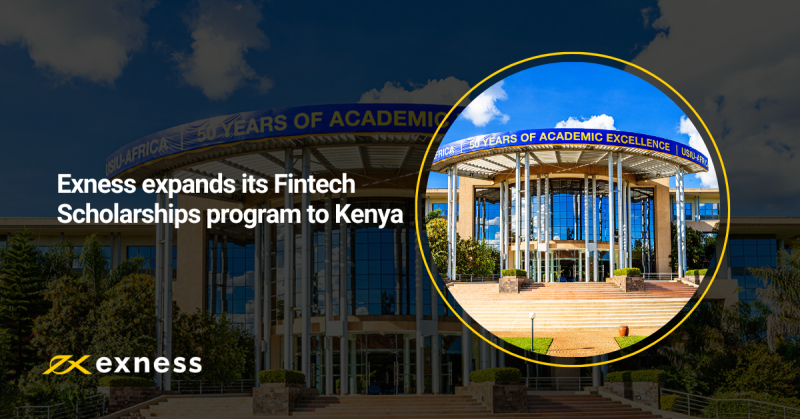 The scholarship will cover the full amount for tuition fees and living expenses. Interested students are encouraged to send their applications to Exness, including a CV, academic transcripts, and a motivation letter by 28 July 2023. For more information, click here (https://apo-opa.info/3K3McRP).
Launching the Fintech Scholarships program in Kenya, Exness further demonstrates its commitment to support education in the countries it operates in. Kenya is the third country to benefit from the scheme. It follows Cyprus, where last year two students accepted scholarships to study at the University of Cambridge (and applications are now open for 2023). In South Africa, three students won the chance to pursue post-graduate studies at the country's top university, the University of Cape Town.
"We are happy to be able to launch our Exness Fintech Scholarships program in yet another country", said Martin Thorvaldsson, Exness Head of Community. He added: "At Exness, we recognize the importance of higher education for our youth's future and are honored to be part of the journey of excellent students in building the STEM careers and future they dream of. We strongly believe that technology and innovation are key sectors for every economy and as a fintech company, we are dedicated to supporting the minds that can contribute to their growth and development."
"As a university, we are so excited about our partnership with Exness. The Exness Fintech Scholarships aim to offer opportunities to young people from Kenya to achieve their full potential and aspirations in the Technology space. We strongly believe that to truly transform society, learning and education needs to align with local and global challenges and opportunities. The scholarship degree programs of Data Science and Analytics, Software Engineering and Information Security are indeed game changers for the landscape of the 21st century", Prof. Margee Ensign, Vice Chancellor at United States International University Africa commented.
Exness is a global multi-asset broker which uses a unique combination of technology and ethics to create a favourable market for traders and raise the industry benchmark. Exness' ethos and vision revolve around the concept of offering its clients a frictionless trading experience, by bringing to life the financial markets in the way they should be experienced. Exness' identity and commitment to the two worlds of technology and ethics, as well as its loyal client base which counts over 500,000 active traders are key drivers of the global brand. Today, Exness records over $3 trillion in monthly trading volume and has set its focus on a strategic expansion to new corners of the world.
How Kora Payment Link Helps Online Businesses To Grow
How Kora Payment Link Helps Online Businesses To Grow
The advent of technology with the COVID-19 pandemic has increased the adoption and popularity of online businesses. This is owed to the ability to operate small and medium-sized businesses from anywhere across the globe – which alludes to the fact that the world is now a global village: "How Kora Payment Link Helps Online Businesses To Grow."
Therefore, there has been a meteoric increase in the number of online shoppers seeking products or services from the available businesses in the digital space.
This is evident in the emergence of e-commerce platforms that operate as an online marketplace for both buyers and sellers. It is also playing out in social commerce through the use of platforms like Facebook, Instagram, or X (Twitter) that people continuously use for their shopping experience.
By and large, online business is today a thriving venture that continues to generate a staggering income for businesses and the local economy.
One of the major perks of online businesses is the flexibility of their payments, such that merchants can offer a range of payment methods. The most common options are bank transfers or card payments, in which businesses provide their customers with bank account details to pay.
But as innovation continues to meet the evolution of online businesses, Kora is making payment strategy seamless for both merchants and their customers. This is through the Kora Payment Link.
What Is Kora Payment Link?
A Kora Payment Link is a clickable link that enables business customers to complete a purchase. This is offered as a digital link, which can be used across various social media platforms, websites, or other messaging tools.
How this works is that a customer is directed to a merchant's online checkout page to complete their transaction anytime they use the Kora Payment Link. This link can be used for both a single transaction, as in a customer invoice and for multiple transactions, as a buy button on social media platforms.
It should be noted that the Kora Payment Link facilitates simple online payments as it does not require a website or code to create and use the link. Therefore, online businesses can easily create a payment link that takes customers directly to the online checkout page of the merchant.
Furthermore, the Kora Payment Link can be used for fundraising, donation, and subscription purposes.
Benefits Of Kora Payment Link To Online Businesses
You can receive payments from your customers across the globe through the payment link that you can easily share on social platforms or websites. This is also a "call to action" strategy to compel your customers to complete their purchase with you without delay.
Customers do not have to log into a mobile app or website before paying. This is because they can easily click the link anytime and from anywhere to take them to the checkout page to complete their purchase.
Kora Payment Link provides online businesses various payment options tailored to their preferences. This can be bank transfers, payment cards, or other digital payment methods like Apple Pay or Google Pay.
Therefore, it is the volition of online businesses to design their payment links towards their preferred payment options. Hence attracting customers to complete their purchase with the knowledge that they can use certain payment gateway.
How Online Businesses Can Use Kora Payment Link
Here is a quick step for using the Kora Payment Link:
Create a Kora account and log in.
Navigate to "Payment Link."
Enter your details and customize your link with certain preferences.
Preview your link and activate it.
Share your Kora Payment Link on social media platforms and other messaging tools.
Start receiving payments.
Conclusion
We can not overemphasize the importance of having a sustainable payment strategy for online businesses to attract more customers who would complete purchases with them. That is why Kora introduced a payment link which merchants can easily share with their customers for transactions.
Kora Payment Link is easy and free to use, and you can get started by creating a Kora account now. [site]
How Kora Improves Cross-Border Transactions For Businesses
How Kora Improves Cross-Border Transactions For Businesses
Cross-border transactions are increasingly becoming popular without the concern of waiting days or transfer fees. This is due to the emergence of a fintech company like Kora, which makes cross-border payments simple, cheaper, faster, and easily accessible for businesses: "How Kora Improves Cross-Border Transactions For Businesses."
A BCC Research of January 2023 revealed that the global cross-border payments market is expected to grow from $176.5 billion in 2021 to over $238.9 billion by 2027. The vehicle for this growth is fintech disruptors like Kora, which offers a digital platform and innovative messaging and settlement layers to improve cross-border business transactions.
Ways Kora Is Changing Cross-Border Transactions For Businesses
Kora enables you to make transactions fully on its platform, unlike the traditional method of visiting physical branches. This allows you to use the platform anytime and from anywhere without a glitch.
A simple user interface and streamlined onboarding characterize this platform to simplify cross-border transactions. It means you can use Kora to receive funds from your customers or transfer with its bulk payout, multicurrency payout, or mobile money options.
Kora enables instant or same-day cross-border transactions, which is in the converse of the traditional settlement layers that can take days. Therefore, businesses can complete their transactions in less than one hour on this platform. You do not experience any form of delay in sending or receiving funds on this platform, irrespective of the amount. This is due to its high scalability and optimization of Kora.
This platform eliminates the meddlesome of third parties like banks and agents in the cross-border transfer chain. As such, it offers a relatively low transaction fee, which is often less than 1% of the transfer amount. This is a major perk of Kora compared to its contemporaries.
Kora offers an advanced tracking dashboard that provides real-time access to your funds and the estimated delivery timelines. This is because the platform has state-of-the-art blockchain technology that provides complete transparency in the tracking of your funds. It helps to reconcile your income with expenses.
Kora employs features like two-factor authentication (2FA) and other security measures to add extra security layers and protect user transactions and funds. This platform is in total adherence to global compliance standards to protect users' funds and data.
Reduced Foreign Exchange (FX) Risk
Cross-border transactions often involve multiple banks and currencies whose operations result in significant foreign exchange fees and currency volatility that create discrepancies between transferred and received funds.
This is largely the case when businesses in a particular country receive payments from another country.
However, Kora reduces foreign exchange risks that are associated with cross-border transactions by routing funds efficiently at the best exchange rate. On the other hand, Kora users can avoid foreign exchange concerns by using the multicurrency account on the platform that allows them to receive payments in currencies other than their local currency.
Conclusion
Cross-border payment is important to businesses as it enables their growth in the global market. But as digital payments continue to gain traction, there is a need for businesses to know how to leverage the technology to boost sales.
One major platform you can use for your cross-border transactions with your customers is Kora. This is due to the simplicity and scalability it offers you.
You can also start making cross-border transactions seamlessly when you create a Kora account now. [site]
Crypto and Blockchain: Shaping the Future of Payments in Africa
Cryptocurrency and Blockchain: Shaping the Future of Payments in Africa
Cryptocurrency and blockchain technology are revolutionizing how payments and financial transactions are conducted worldwide, and Africa is no exception: "Crypto & Blockchain: Shaping the Future of Payments in Africa."
With Africa's limited traditional banking infrastructure, millions of people are excluded from financial services, leading to slow business and economic growth.
However, with the high rate of cryptocurrency adoption in many African countries, noticeable changes are taking place. People initially excluded from the financial system participate in digital transactions, making cross-border payments and investments, ultimately changing their lives and positively impacting the economy.
This article discusses different ways cryptocurrency and blockchain technology are shaping the future of payments in Africa.
How Cryptocurrency and Blockchain are Shaping the Future of Payments in Africa
Financial Inclusion and Access to Capital
Financial exclusion, that is, lack of access to capital and other financial services, is one of the major problems facing the African payment infrastructure. The World Bank reported in 2014 that over 350 million African adults had no bank account.
That number has decreased in recent years due to the success of mobile money programs. But a recent BPC fintech report shows there's a lot more to be done, as it reported that 57% of Africans do not have access to any kind of bank account, including mobile money accounts.
This is where cryptocurrency and blockchain stepped in and are already contributing massively to the payment revolution in Africa. Cryptocurrency became popular in Africa in the heat of the COVID-19 period, recording an adoption rate of 1200% between 2020 and 2021.
Individuals initially excluded from the traditional financial systems are now actively participating in the crypto market with just their phone and internet connection. The availability of crypto ATMs and over-the-counter (OTC) markets where you can trade cryptocurrency and receive cash has made it possible for people in underserved communities to access financial services.
Cross-Border Payments
African countries engage massively in international trade within themselves and with other continents. Many small businesses in Africa export goods in different quantities and import them to resell or for production. However, traditional cross-border payments can be expensive and slow due to the fragmented financial landscape of the continent and the use of different currencies.
According to the World Bank, the average cost of sending $200 was 6.2% in Q4 2022, with mobile money being the cheapest at 4.5%. That's between $9 and $12 in transfer fees for a payment of just $200. And it could be more, especially if the sender uses a traditional bank (11.8%) or a money transfer operator (5.4%). The cost could be quite unbearable when the exchange rate and preferred transfer speed are factored in.
Cryptocurrencies, such as bitcoin, ETH, BNB, and stablecoins, are facilitating borderless and cost-effective international money transfers, reducing the fees and time involved. Transferring cryptocurrency from one wallet to another is one of the cheapest ways to make cross-border payments or remittances, and transactions are completed in 24 hours or less. For example, the average cost of sending Bitcoin to another wallet is $4.05, while Ethereum costs $0.73 per transaction.
Store of Value
The inflation rate in most African countries is skyrocketing daily, eroding the value of their currencies and making imports and even internal purchases expensive. For example, in Nigeria, the dollar price in the parallel market went from N736 in January to N1300 in October 2023. That shows a 76.6% increase in the dollar's value within ten months.
According to Business Insider Africa, many African countries are experiencing a prolonged period of high inflation. In the list, Zimbabwe stands top with an inflation rate of 101%. Others are Serra Leone (44.81%), Ghana (43.1%), Egypt (36.5%) and Ethiopia (28.8%). Nigeria, the largest African country, also made the list with an inflation rate of 24.08%.
The rising inflation in many African countries has led individuals and businesses to look for a reliable way to save money without losing value. Cryptocurrencies, especially stablecoins, have proven to be a good store of value and a reliable alternative for financial transactions.
Integration with Mobile Payments
Many Africans use mobile phones for payments and transactions, and cryptocurrencies can integrate seamlessly with mobile payment platforms, making it easy for people to transact with them.
Mobile payment platforms like Google Pay, BitPesa, Blockonomics, PayPal, and more allow users to make payments in cryptocurrencies for purchases on digital platforms.
People bypass many unnecessary fees by transacting in cryptocurrencies, especially when making purchases on international platforms. Many crypto-integrated mobile payment apps also allow users to save, invest, and perform other financial services with their smartphones.
Remittances
Remittances are a significant source of income for many African families. Africans working abroad love sending money to their families at home, either for their upkeep or investments.
The World Bank's Migration and Development Brief shows how remittances grew in Sub-Saharan Africa by 6.1% in 2022, totaling $53 billion. Many countries had significant growth in their remittances, with Tanzania (25%), Rwanda (21%), and Uganda (17%) being the top three. Nigeria accounted for 38% of the total remittance inflows to the region despite having a growth rate of only 3.3%.
Many factors contributed to this remittance growth in Africa, including the low cost of cryptocurrency transactions and mobile money payments.
Conclusion
The adoption of cryptocurrency and blockchain technology is rapidly reshaping the African payment system, creating a future of massive financial inclusion, efficiency, economic development, and empowerment.
The advantages of these assets are clear, as individuals, businesses, and governments can benefit massively from them. Cryptocurrencies facilitate borderless and cost-effective cross-border payments, enable individuals and businesses to hedge against hyperinflation, and make mobile payments more efficient.
Despite already having significant success in Africa, its future impact is expected to be much more revolutionary. Cryptocurrency and blockchain technology will open new opportunities for investment and trade and pave the way for a brighter economic future across the African continent. See More!