Educating Girls: a win-win investment
The fight against extreme poverty is tied to the fight for gender equality and empowerment. Nowhere is this more evident than in the education sector. Every child should be in school, especially in low-income countries. However, because poverty is sexist, girls are denied access to education more often than boys are. Evidence suggests that educating girls and women is a particularly smart investment as benefits are more far-reaching.
Prioritising education is perhaps more urgent now than at any point in recent history. Sub-Saharan Africa's population is projected to rise to over 2 billion by 2050 and its working-age population is set to triple to 1.25 billion. This dramatic growth in the working-age population – if coupled with declines in fertility and reductions in child and infant mortality rates – has the potential to wipe out extreme poverty and lead to a 'demographic dividend' with enormous economic benefits. With a quality education, including for marginalised girls improved, these investments in Africa's young people could be the engine of not only African but global growth.
EDUCATION DRIVES ECONOMIC INCLUSION AND WAGES UP
When girls are educated, they have better employment opportunities and their earning potential rises. An additional year of schooling for girls approximately results in almost a 12% increase in wages. Not acting could have an equally dramatic effect; one study suggested that the failure to educate girls to the same standard as boys cost developing countries $92 billion a year. Building on this analysis, a dollar invested in an additional year of schooling, particularly for girls, returns earnings and health benefits of $10 in low-income countries.
EDUCATION DRIVES DOWN CHILD MORTALITY AND MALNUTRITION
Women with more education make more informed decisions about their lives. They tend to have smaller families, compounding the economic benefits, but also have access to information around prenatal care, hygiene, immunisation and nutrition, all of which play a vital part in reducing the leading causes of death in children under five. Even when a girl attends school, she is less likely than her male peers to complete her education; in sub-Saharan Africa, just 34% of girls complete lower secondary school, while 42% of boys do. And enrolment is no guarantee that the education children receive will adequately equip them for the future.
If every girl completed a primary education in sub-Saharan Africa, maternal mortality could fall by a dramatic 70% – in part because women with more education tend to have fewer children. In sub-Saharan Africa, if child mortality rates were to fall to the level for children born to women with secondary education it could mean the lives of 1.2 million children under five could be saved each year.
EDUCATION FOR SECURITY
Studies show that investing in education can reduce the likelihood of conflict by 20%. Some young people in the continent are out of school due to protracted and sporadic conflicts. Without education, millions of people could be vulnerable to extreme poverty, extreme climate and extreme ideology. This is not just a problem for Africa but a problem for the security and stability of the world.
To learn more about what can be done to fight for girls' education, read our report 'Poverty is Sexist: Why educating every girl is good for everyone'.
If you believe ALL #GirlsCount, choose your number. Join the count and fight for girls' education.
HAELSOFT SCOLARSHIP TRAINING 2019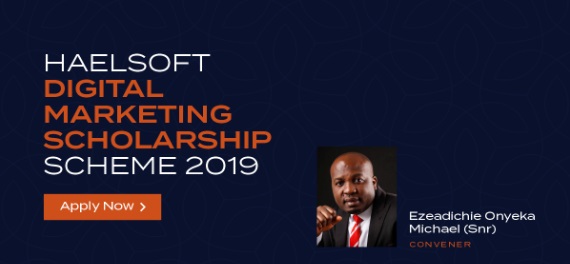 HAELSOFT SCOLARSHIP TRAINING
Haelsoft Digital Marketing is a professional company that provides a broad range of programmes in digital technology, operations strategy and business. they hosted a scholarship programme which ran from the 10th of December to 13th of December.
The scholarship programme was a very wonderful package which helped to enlighten young talents who are passionate about Digital Marketing and technology find a path towards achieving greatness.
The programme kicked off at exactly 9:00am which started with an opening prayer and introductory speech by the CEO with the names Mr Ezeadichie Onyeka Michael who thanked everyone for being able to attend the programme.
The first item on the programme was introducing Digital marketing. The teaching also went further to talk about SEO optimization teaching us how to use those different tools for better performance. there was a short break with the interval of 30 minutes. they also taught about Google ads which brought the programme to a close for the day.
The second day kicked off at 9:00am as usual with an opening prayer. we went straight to the teaching of the day which talked about Google trends and podcast, that ended the programme for the day.
The third day talked about creation of website, how to create a website without stress and youtube video creation which ended the programme for the day with a closing prayer
The last day was about content marketing and content writing which helped channel young writers on how well to write. The last day was fun because interviews were taken from different radio stations. The scholarship programme ended well all thanks to the CEO of Haelsoft Digital marketing institute,
Fun Games to Help your Child Develop( Pearsbaby)
Age-appropriate activities are a great way for parents to help their children grow, and an even better way to share some very special time together. They are a way of teaching your children basic skills and exercising their brains, even while they're very young. Here are a few exercises for you to try with your children when you think they're ready.
0 – 6 Months:
Tummy Time,  is one of the oldest, and best exercises for toddlers because it's so simple. Lay out some brightly coloured toys for your baby on the floor, in an area where you can watch them carefully, and let them squirm around and explore the world. Squat over them, hold toys above them, roll them from side to side, and above all else, have lots of fun!
Footsies, is another great game that stimulates your babies under developed motor skills. With your baby on its back, put brightly coloured socks or booties on their feet and then pinch one of their toes to grab their attention. When they become wrapped up in those colourful toes leave them to play, and watch as they exercise their back, arms, legs and core.
Read More : Fun Games to Help your Child Develop
7 Tips On How To Make Social Media Work For Your Business
1. Every brand or individual who decides to use the social media platform as a tool for either personal branding or brand management must have a good strategy on how they intend to play on that space. i.e. what they intend to achieve and how they intend to go about it.
2. Having clear & engaging content would provide brand awareness & daily consumer interaction with your brand. Find content that resonates with your target group. For instance; if your TG is young people, research & discover what most young people are doing online, provide content they would be interested in (Music, football, videos, games, etc.)
3. Social media is a two way communication. If your audience/ consumers take out time to visit your social media page and interact with your content either by commenting, liking or sharing, please respond to them. No matter how flimsy or irrelevant their suggestions may be, the least you can say is "Thank you for your comment". You would be amazed how much trust you would gain from your audience.
4. Always ask your audience/ consumers for feedback on your products. This would help the brand position itself in the right direction. Social media gives you the opportunity to reach as many people as possible, through one medium, all at the same time!
5.If your brand has a "serious tone of voice" offline and you decide to get on social media, find a "social media tone of voice" to increase your online presence & engagement.
6. On social media, sometimes images speak louder than words! Use images that are sharp, clear and attractive to the user. Your brand logo must always accompany your images as well! Images would serve as an advertising vehicle for your brand.
7. No matter what you do, be sincere. Sincerity equals believability and credibility for your brand.
source: Wildfusion