Campbellsville University USA, pledges $30 million five-year empowerment plan in education for Africa

U.S based Campbellsville University has announced a $30 million five-year empowerment plan for education in Africa. The intervention fund is being deplored to the continent to develop a network with educational partners in both public and private sectors in order to empower the African youth and invest in the future of Africa as well as forge the mission of Campbellsville University in the continent and throughout the globe.
Speaking at a roundtable to unveil the plan, the Dean of International Education at the University, Dr. Mego Haralu, who was on tour of some African countries, including Nigeria, Ghana, Kenya, Cameroon, Tanzania, Uganda, South Africa, and Liberia, said the university is over the next five years investing the $30,000,000 in the youth of Africa, majority of who will come from Nigeria.
He said, "Campbellsville University will invest in the youth and students of Africa by awarding $15,000 to each qualified and exceptional student for each of the student's four years of study in the undergraduate degree."
"We project as many as 100 students per year to come to Campbellsville for the next five years for a projected 500 students. We strongly believe this will work out, and will translate into $1,500,000 per year in scholarships granted to students from Africa," he added.
According to Haralu, in Nigeria, the University will partner with Ibadan based Citygate Institute of Innovation and Technology, adding that Rector of Citygate Institute of Innovation and Technology, Folajimi Fadenipo and his associates will oversee the operations of Campbellsville University's affairs in Nigeria.
"Any individual or establishment, public or private, or any student who desires to partner with or want to study at Campbellsville University must do so through Mr. Fadenipo and his associates," he stated.
He further explained that Nigerian students are academically strong, creative, and highly entrepreneurial with great leadership qualities. He explained that as a result of this, Campbellsville University employed a prominent Nigerian professor of business and director of programs who has been an employee of the university for 12 years.
Haralu also explained that Campbellsville is a Christian liberal arts university, which began in 1906, has seven campuses with its main campus in Campbellsville, Kentucky, and has over 4,200 students, stressing that the university serves its students with 80 disciplines of study.
"I am the Dean of International Education at Campbellsville University; I oversee the affairs and welfare of all international students from 50 countries in the university. My experience over the years, has established that the best place to empower the youth is in education. Campbellsville University is now focusing on Africa to achieve this goal. Campbellsville University has Nigerian students from Lagos, Abuja, Ibadan and Port Harcourt," he said.
"As an institution, Campbellsville University will also pursue educational partnerships in both private and public sectors at the level of higher education in some very specialised fields like sports management, education and teachers training, high-tech vocational training in information technology. We will engage in academic-industry collaboration in Kenya, Ghana, Cameroon, Tanzania, Uganda, South Africa, Liberia and others in Pan-African nations.
"I welcome all Africans to embrace this news and opportunity and come together to help the youth of Africa as well as to further the mission of Campbellsville University in Pan-Africa."
HAELSOFT SCOLARSHIP TRAINING 2019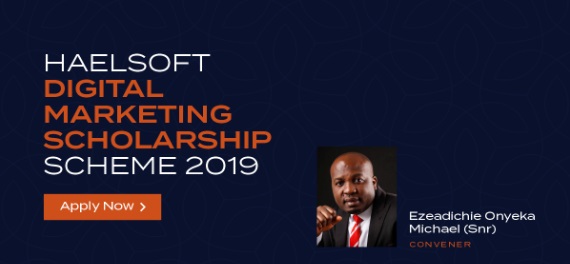 HAELSOFT SCOLARSHIP TRAINING
Haelsoft Digital Marketing is a professional company that provides a broad range of programmes in digital technology, operations strategy and business. they hosted a scholarship programme which ran from the 10th of December to 13th of December.
The scholarship programme was a very wonderful package which helped to enlighten young talents who are passionate about Digital Marketing and technology find a path towards achieving greatness.
The programme kicked off at exactly 9:00am which started with an opening prayer and introductory speech by the CEO with the names Mr Ezeadichie Onyeka Michael who thanked everyone for being able to attend the programme.
The first item on the programme was introducing Digital marketing. The teaching also went further to talk about SEO optimization teaching us how to use those different tools for better performance. there was a short break with the interval of 30 minutes. they also taught about Google ads which brought the programme to a close for the day.
The second day kicked off at 9:00am as usual with an opening prayer. we went straight to the teaching of the day which talked about Google trends and podcast, that ended the programme for the day.
The third day talked about creation of website, how to create a website without stress and youtube video creation which ended the programme for the day with a closing prayer
The last day was about content marketing and content writing which helped channel young writers on how well to write. The last day was fun because interviews were taken from different radio stations. The scholarship programme ended well all thanks to the CEO of Haelsoft Digital marketing institute,
Fun Games to Help your Child Develop( Pearsbaby)
Age-appropriate activities are a great way for parents to help their children grow, and an even better way to share some very special time together. They are a way of teaching your children basic skills and exercising their brains, even while they're very young. Here are a few exercises for you to try with your children when you think they're ready.
0 – 6 Months:
Tummy Time,  is one of the oldest, and best exercises for toddlers because it's so simple. Lay out some brightly coloured toys for your baby on the floor, in an area where you can watch them carefully, and let them squirm around and explore the world. Squat over them, hold toys above them, roll them from side to side, and above all else, have lots of fun!
Footsies, is another great game that stimulates your babies under developed motor skills. With your baby on its back, put brightly coloured socks or booties on their feet and then pinch one of their toes to grab their attention. When they become wrapped up in those colourful toes leave them to play, and watch as they exercise their back, arms, legs and core.
Read More : Fun Games to Help your Child Develop
7 Tips On How To Make Social Media Work For Your Business
1. Every brand or individual who decides to use the social media platform as a tool for either personal branding or brand management must have a good strategy on how they intend to play on that space. i.e. what they intend to achieve and how they intend to go about it.
2. Having clear & engaging content would provide brand awareness & daily consumer interaction with your brand. Find content that resonates with your target group. For instance; if your TG is young people, research & discover what most young people are doing online, provide content they would be interested in (Music, football, videos, games, etc.)
3. Social media is a two way communication. If your audience/ consumers take out time to visit your social media page and interact with your content either by commenting, liking or sharing, please respond to them. No matter how flimsy or irrelevant their suggestions may be, the least you can say is "Thank you for your comment". You would be amazed how much trust you would gain from your audience.
4. Always ask your audience/ consumers for feedback on your products. This would help the brand position itself in the right direction. Social media gives you the opportunity to reach as many people as possible, through one medium, all at the same time!
5.If your brand has a "serious tone of voice" offline and you decide to get on social media, find a "social media tone of voice" to increase your online presence & engagement.
6. On social media, sometimes images speak louder than words! Use images that are sharp, clear and attractive to the user. Your brand logo must always accompany your images as well! Images would serve as an advertising vehicle for your brand.
7. No matter what you do, be sincere. Sincerity equals believability and credibility for your brand.
source: Wildfusion