…We've achieved 22 percent – NCC
…Your calculation is incorrect, replies Paradigm Initiatives
…Achieving 8% in next five months unlikely -NiRA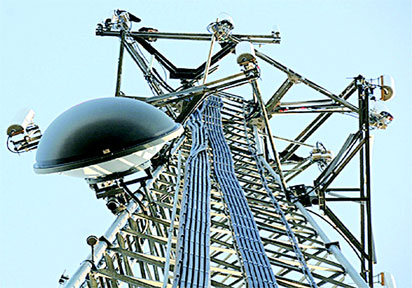 The expected result would remove barriers to expanding services to the mass market for deeper penetration and adoption. However, five years down the line, the impact of the National Broadband Plan is still mired in debate and argument. Although both the Ministry of Communications Technology and the regulator, the Nigerian Communications Commission, NCC, say the country has achieved 22 percent penetration out of the target and hopes to achieve full target within the remaining few months to end of the year, last mile broadband penetration which formed the basis and primary aim of the plan, is still a mirage in the country.
The Executive Vice Chairman of the Nigerian Communications Commission, NCC Prof. Umar Danbatta said part of ongoing efforts by the commission to meet the 30% broadband target is to license three additional Infrastructure Companies, Infracos, bringing the number to seven in the country. Danbatta, said the three Infracos were awaiting approval as the commission had earlier licensed two early in the year to lay the foundation for internet penetration and increased broadband services.
The two Infraco companies are: Zinox Technology Limited for Southeast and Brinks Integrated Solutions Limited for Northeast. He noted that the licenses were issued based on NCC open licensed model which is in line with the National Broadband plan 2013-2018. Before then, Mainone Cable Company had been licensed to provide services in Lagos metropolis, while IHS got its license to cover the North Central geopolitical zone and the Federal Capital Territory, Abuja. Danbatta said: "These licenses have contributed to the growth of internet in the country and also increased the number of users from 28 million in 2012 to over 103 million as at May 2018". Wrong calculation, faulty implementation.
But the Executive Director, Paradigm Initiative Mr Gbenga Sesan, expressed a contrary view. He feels the 22% broadband penetration claim is deceptive. In his calculation, the actual penetration since the plan birthed in 2013 cannot be more than 10 percent.
"However, Nigeria is busy counting mobile broadband. The target of 30% is not just for mobile broadband. When government said we have achieved 22%, they are counting multiple SIM cards owned by the same persons, that is not what it should be. It is lazy to do that. Count subscribers, don't count SIM cards and the number will drop to less than 10 percent. "We can't achieve 30% by the end of this year, it is impossible. But we can achieve that 30% in the next two and half years, which means we need to begin to work now. This is why more Infracos should be licensed urgently" he added.
Nigeria's case is like a fish complaining of thirst inside the ocean. A deluge of submarine broadband cable investments by private concerns like Mainone, Glo 1, West African Cable System,WACS and NITEL's Sat 3, have a volume of terabytes lying fallow on the shores of Lagos while the country struggles fruitlessly to achieve last mile deployment. Broadband service providers have attributed this to the inability of the Federal and state governments to harmonise the Right of Way (RoW) levies that give operators access to deploy services.
The National Economic Council (NEC) RoW guideline stipulates N145 per metre for laying fibre network in every part of the country. But it is observed that states have arbitrarily fixed their own charges which range between N1, 500 and N6000. While states like Rivers and Abia, charge N1,500 and N2,000 respectively, others like Lagos, Delta and Ogun charge up to N5840, N4,600 and N6,500 respectively. Yet, only a paltry 38,000 km fibre out of about 120,000 km of fibre network required for pervasive coverage has been deployed in Nigeria.
In September 2017, the International Telecoms Union (ITU) ICT Development Index ranked Nigeria 143 out of the 176 member states, which was exactly the same ranking as 2016 and behind many other African countries including South Africa, Kenya, Ghana, Egypt, Morocco and Cote D'Ivoire. In a similar development, the country's mobile broadband penetration only inched up to 22 per cent from 21 per cent the previous year, thus showing almost no progress.
Industry observers have expressed worry that this is not the way forward for a country that has made tremendous progress in telecom development and should ordinarily plug into broadband revolution, seamlessly. The frightening aspect of the development is the opinion that the effects are adversely telling on the economy of the country and may soon throw Nigeria back into a pariah state. Slow national development, low attraction of foreign direct investment and inadequate infrastructure, are part of the effects the country is said to be feeling as a result of inability of the action plan to lift the broadband development to a desired end.
Sesan also took a shot at what he feels could bring reprieve. "RoW prices that are causing trouble should be addressed. All the relevant ministries, transportation, works, communication and other stakeholders need to come together to address it with private sector people and agree on something that is feasible "It has been advised that when you dig the road the first time, create a huge pipe, so that when others are coming they will not need to dig again. We should stop thinking mobile alone but also think about terrestrial infrastructure. We are not going to deliver 100 GBPS to homes with mobile phone. We are in a critical stage and if we are not careful, in the next five years, we will miss the last revolution,".
The President, Nigeria Internet Registration Association, NIRA, Rev. Sunday Folayan, said to achieve the 30% target, a lot of mobilization needs to be done across board to ensure all stakeholders key into the target. For him, the main focus of attaining deeper penetration should be to impact people's lives.
"We should not be slaving for internet. We need to keep accurate data of the digital resources we have to attract investment in the sector. That is the essence of keeping data, using what you have to get what you want instead of expending energy."Right now, we are spending a lot for the world to have easy access to us. It should not be. The world should be the one paying, building the internet because of the access they will have. We need to reverse that mentality that internet is out there. We need to create our own content locally so that the world will come for our content and when they come for our content, they will build our infrastructure."
Dean of NIRA Academy and former Registrar of Computer Professionals of Nigeria, Mohammed Shehu, said: "We are not there yet, but we are actually making progress, believing that with the right attitude and government working the talk, we can get it. "It is a matter of seriousness. If government says it wants to achieve the target, it will. But it takes strong political will"
"I am faulting the plan implementation because I am one of those who put together the plan. It was a good plan but the implementation has been defective. We have become deceptive; NCC's 22 percent broadband penetration claim is faulty. In fact, it is less than 10%. In the broadband plan, we set three conditions: we said it will be 1.5MBPS, it will not buffer and the focus should be mainly on terrestrial infrastructure.