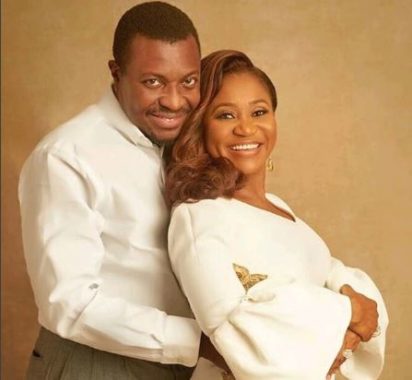 Ali-Baba and wife, Mary
Mrs Mary Akpobome, Founder, Purple Girls Foundation, said that the foundation was established to provide solution to an issue of great concern that had been at the front burner of social, economic and political dialogue; education, especially that of the girl-child. "It is to let us know that what God placed in our hands is not just for our immediate family, but the society in general.
The comedian, Ali-Baba and his wife, Mary Akpobome, on Wednesday launched the Purple Girls Foundation, to support girl-child education in the country. The launch and fund-raising for the foundation was done to celebrate the 50th Birthday of Mrs Mary Akpobome, in Lagos.
"The Purple Girl Foundation has now become one of the available interventions where we can collectively express our humanity by being our sister' keepers and in our way, leave impactful footprints in the sands of time.
"Our vision is to be the leading platform supporting and advocating access to education and leadership development for the girl-child in Nigeria," she said. Akpobome said that the foundation would support underserved young girls in primary, secondary and tertiary institutions, with tuition, education support and health insurance.
According to her, the support will also instill in them leadership and peer learning opportunities that will give them better prospects for their future. She noted that educating the girl-child goes beyond advocating for gender equality and female rights; education for the girl-child results in positive transformation and development at family, community and national levels.
"Every child deserves to go to school. 60 per cent of the total out-of-school children in Nigeria are girls; which means 5.5 million girls are out of school and it is the highest rate worldwide. "If all women had a primary education, maternal deaths would reduce by two-thirds, and 98, 000 lives will be saved," she said.
Akpobome said that the foundation's intervention was critical at a time the country needed to re-adjust its socio-cultural, political and economic system. Earlier, Dr Idiat Adebule, Deputy Governor of Lagos State, said that government would continue to develop policies and programmes that would support girl-child education, protect them from sexual abuse and instill confidence in them.
Adebule represented by Mrs Yetunde Odejaiye, Permanent-Secretary, Lagos State Ministry of Education, said that it was unacceptable that many girls had to drop out of school due to lack of funds and support. She commended the foundation for its efforts to complement government's work in promoting girl-child education not only in Lagos but across the country.
Mrs Toyin Saraki, President, Wellbeing Foundation Africa, said that educating a girl-child would release their potentials, contribute to society's transformation and uplift many families from poverty. Saraki represented by Mrs Ini Oyekunle, Chief Executive Officer, Wellbeing Foundation, said that addressing the education of girls should be seen as addressing issues of quality, safety and wellbeing of the girls.
Mr Mohammed Ahmed, Director, Schools Education and Society, British Council, Nigeria, said it was a human right for girls to be in school, and government should provide more inclusive education system. He said that the country should make concerted efforts to reduce the rate of out of school children as the country's population increased.
The News Agency of Nigeria reports that the foundation was established by Mary and Alibaba Akpobome, to enhance the education of the girl-child from none privileged backgrounds, who struggle amidst various disadvantages. The foundation will in the first three years support indigent female children in three pilot states and later increase its spread across the country.